Up until One Two Three from Chennai Express, the babies in my family were demanding to repeat one and one song only. As soon as the saxophone/trumpets end at the beginning and the music drops, they head into a rave-mode. Badtameez Dil is a cheeky, charming and repeatable song through and through. Most people won't even be able to sing anything but the chorus but that's what makes it so, so fun. I'm a huge fan of Pritam and his work despite what anybody claims. YJHD's successful soundtrack speaks for itself and we will see many a mention when next year's awards season starts. Amitabh Bhattacharya's lyrics (not the English ones) are perfect for the song but I want to give the most credit to Benny Dayal here; to sing such nonsensical lyrics and make them seem – actually cool – takes some talent. Dayal's voice is youthful and despite the speed of the verses, he takes his time and enunciates each and every word. The way he puts a thumps the 'Badt' in the chorus makes the chorus that extra bit catchy and his voice naturally captures the essence of Ranbir Kapoor's character.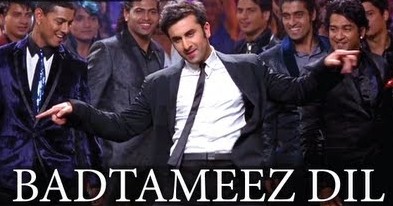 Taken from topnews.in ©
The video of Badtameez Dil is almost like a celebration of Ranbir Kapoor's achievements over the last few years; consecutive best actor awards, national recognition and startling box office success has made RK one of the most in-demand actors. He's having a Hrithik Roshan style start to his career and all credit to him. That's why I think this song is perfect for him in terms of content and style and that's exactly how the video comes across; a celebration of current times with a huge 'YOLO' attitude. He makes the video what it is. I can't think of any actor – other than one – whom can 'own' a song as much as RK has done in this video. He pulls off the suit look with absolute class and shows the world his ability to effortlessly dance. RK's side-to-side chorus dance brings a smile to your face every time. As someone who loves to dance, I haven't been able to imagine my next performance to be anything but Badtameez Dil'. A clear cut nomination for #SongoftheYear which will take a lot to beat and I just hope we can see more Dayal-Ranbir combinations in the future because their first collaboration is just brilliant. Oh, and the one actor that I mentioned earlier is none other than the King himself: Shahrukh Khan.
Badtameez Dil: http://www.youtube.com/watch?v=A1VTaAYH3Hc